Book Sections
Year : 2021
Vers une citoyenneté des animaux ?
Fichier principal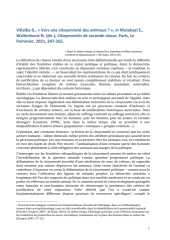 Villalba-citoyenneté-animaux-Wallenhorst-2021.pdf (270.37 Ko)
Télécharger le fichier
Origin : Files produced by the author(s)
Bruno Villalba : Connect in order to contact the contributor
https://hal-agroparistech.archives-ouvertes.fr/hal-03688928
Submitted on : Monday, June 6, 2022-12:20:20 PM
Last modification on : Friday, August 5, 2022-2:38:11 PM
Long-term archiving on: Wednesday, September 7, 2022-6:30:07 PM
Dates and versions
Identifiers
HAL Id :

hal-03688928 , version 1
Cite
Bruno Villalba. Vers une citoyenneté des animaux ?. Mutabazi E., Wallenhorst N. (dir.),.
Citoyennetés de seconde classe
, Bord de l'eau (Le), p.247-265, 2021.
⟨hal-03688928⟩