Effects of cropping systems on food and feed contamination by Fusarium and Aspergillus mycotoxins
Effets des pratiques agricoles sur la contamination des denrées par les mycotoxines issues de Fusarium et Aspergillus spp.
Certaines espèces de champignons des genres Fusarium et Aspergillus sont à l'origine des principales contaminations au champ des denrées agricoles par des mycotoxines. La prévention des conséquences toxicologiques de ces contaminations passe actuellement par une adaptation des systèmes de culture. Compte tenu des manques importants de connaissances relatives aux facteurs déclenchant la production des toxines, c'est surtout sur la prévention des risques d'infection par les espèces toxinogènes que se fondent les stratégies. Sur Fusarium comme sur Aspergillus, les techniques culturales permettant d' empêcher la survie de l'inoculum sont un levier essentiel, notamment le choix de semences non contaminées et le raisonnement de la succession des cultures, auxquels il faut ajouter pour Fusarium le rôle primordial de la gestion des résidus de cultures. Le choix d'une date de semis adaptée de la culture permet pour les deux genres de mettre en oeuvre des stratégies d'évitement, et une baisse de la densité de semis permet une atténuation des attaques en culture. En revanche, les atténuations par pilotage de l'alimentation azotée et hydrique sont beaucoup plus difficiles à réaliser, compte tenu des différences de réaction des mécanismes d'infection des pathosystèmes aux états nutritionnels des plantes. De même, la protection fongicide est à considérer au cas par cas, compte tenu de ses effets variables sur les communautés fongiques présentes sur les cultures. Enfin, la sélection variétale de cultures résistantes à l'accumulation de mycotoxines a rencontré plus de succès pour Fusarium, notamment chez les céréales et surtout le blé, que pour Aspergillus. Toutes ces techniques de prévention ne prennent un sens que dans des ensembles cohérents de pratiques agricoles, dont les effets sur l'accumulation de mycotoxines en interaction avec le climat sont encore mal connus compte tenu du manque relatif de travaux menés à l'échelle du système de culture. Comparés aux systèmes conventionnels, les systèmes en agriculture biologique semblent néanmoins, à ce stade des connaissances, moins ou similairement contaminés.
Fichier principal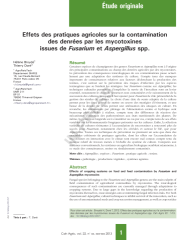 VersionPDF Broydé & Doré.pdf (453.25 Ko)
Télécharger le fichier
Origin : Explicit agreement for this submission