QUANTIFIER LES PÉDOGENÈSES ANTHROPIQUES : UN OUTIL POUR LA GESTION DURABLE DES SOLS
Soils are highly dynamic systems that evolve permanently as a result of various biological, physical and chemical processes. The impact of global change on these processes and on the resulting contemporaneous evolution of soils is however largely ignored. In order to provide the knowledges necessary for the long term management of the soil resource, I have developed a research project aimed at quantifying soil evolution under anthropic driving forces at decadal to centennial time scales. This project, encompassing the quantification of bioturbation, argilluviation, and redox processes, relies on an original approach based on i) image analysis to quantify the amount of the process-specific pedological features and ii) the building of anthropo-chrono-sequences to isolate the impact of anthropic driving forces over well-known time periods. I demonstrate that anthropic driving forces induce irreversible, significant, and rapid soil changes. The essential stake of the coming years will consist of making the status of contemporary soil changes under anthropic constraints evolve from potential threat to concrete opportunity, either to mitigate climate change or to optimize the functions, services, and benefits that soils offer to ensure the well-being of human populations.
Intrinsèquement dynamiques, les sols évoluent en permanence en réponse à de multiples processus biologiques, physiques, ou chimiques. Or, l'impact des changements globaux actuellement en cours sur les évolutions à venir des sols restent très méconnus. Afin de disposer des connaissances nécessaires pour une gestion à long terme des ressources en sol, j'ai développé et mis en œuvre un projet de recherche visant à quantifier les évolutions des sols sous contraintes anthropiques à échelle générationnelle (10 à 100 ans). Ce projet repose sur une approche originale de quantification de l'intensité des processus de bioturbation, d'éluviation/illuviation et d'oxydo-réduction basée sur : i) la quantification des traits pédologiques diagnostics de ces processus par analyse d'images assistée par ordinateur et sur ii) la construction d'anthropo-chrono-séquences. Grâce à ces deux outils, j'ai pu démontrer que les forçages anthropiques du système sol sont susceptibles de générer des évolutions irréversibles, d'amplitude impossible à négliger et beaucoup plus rapides que communément admis. L'enjeu essentiel des années à venir consistera à faire passer les évolutions contemporaines des sols sous contraintes anthropiques du statut de menaces potentielles au statut d'opportunités concrètes mobilisables comme autant de leviers opérationnels permettant d'orienter le devenir des sols dans le sens d'une optimisation des fonctions, services et bénéfices qu'ils offrent aux populations humaines.
Fichier principal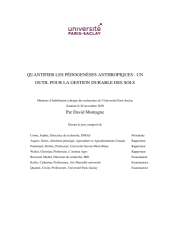 HDR_Montagne_version_definitive.pdf (4.44 Mo)
Télécharger le fichier
Origin : Files produced by the author(s)