Genetic aspects of the evolution of livestock farming :
Aspects génétiques de l'évolution de l'élevage :
Since the beginnings of domestication, humans have sought to improve the animals with which they live, work and trade. Remained empirical for millennia and became methodical in the 18th century, this activity has benefited from the scientific contributions of genetics since the middle of the 20th century. The results were dramatic changes in morphology, behavior and physiology of animals, over ever shorter periods. The intensification of selection in recent decades has met the expectations of the market chains, at the expenses of functional traits in animals. The issues that the animal breeding industry has to deal with are (i) the preservation of domestic biodiversity; (ii) the breeding goals, in relation to the environmental context and the kinds of livestock farming systems to be promoted, and the limits to be put on the modification of living organisms; (iii) the tools and methods to be used; (iv) the respective role of the different operators. The answers and decisions are more a matter of social choices than of technical choices.
Depuis les débuts de la domestication, les humains ont cherché à améliorer les animaux avec lesquels ils vivent, travaillent, et dont ils font commerce. Restée empirique pendant des millénaires et devenue méthodique au XVIIIe siècle, cette activité bénéficie des apports scientifiques de la génétique depuis le milieu du XXe siècle. Cela a entraîné des évolutions spectaculaires de la morphologie, du comportement et de la physiologie des animaux, sur des pas de temps de plus en plus courts. L'intensification de la sélection dans les dernières décennies a répondu aux attentes des filières mais au prix d'évolutions non désirées, comme une certaine dégradation des aptitudes fonctionnelles. Les questions qui se posent au secteur de la sélection animale concernent (i) la préservation de la biodiversité domestique ; (ii) les objectifs de sélection, en lien avec les conditions environnementales et les types de systèmes que l'on souhaite promouvoir, et les limites à poser à la modification du vivant ; (iii) les outils et méthodes à employer ; (iv) la place respective des différents opérateurs. Les réponses relèvent moins de choix techniques que de choix de société. Mots-Clés : domestication, sélection animale, évolution, éthique.
Fichier principal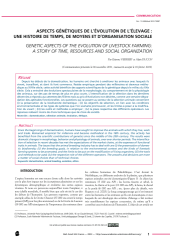 Verrier-Ducos_2022_BAVF.pdf (380.12 Ko)
Télécharger le fichier
Origin : Publisher files allowed on an open archive
Licence : CC BY NC ND - Attribution - NonCommercial - NoDerivatives