Qualitative und quantitative Zusammensetzung der Polyphenole in der Rinde von Abies alba Mill. in verschiedenen Höhen am Stamm
Effect of sampling height on the quantitative and qualitative composition of Abies alba bark polyphenols
Efecto de la altura de muestreo sobre la composición cuantitativa y cualitativa de los polifenoles de la corteza de Abies alba Mill
Effet de la hauteur de prélèvement sur la composition quantitative et qualitative des polyphénols de l'écorce d'Abies alba Mill.
The bark of coniferous trees grown for a commercial purpose is a potential precious source of secondary metabolites such as polyphenols. Tannins are among the polyphenols found in the bark. They are used to manufacture adhesives and resins, but also as tanning agents, antibacterial agents, antifungal agents, antitermite agents and antioxidants. Little information is available on the yield and composition of bark extracts depending on the height at which samples are taken from the trunk and on the presence or absence of branches. The present study examines the variability of the secondary metabolites present in Abies alba bark depending on sampling height on the tree, but also on variability at specific heights among several trees. The aim of the study was to determine which bark fraction contained the greatest quantity of extractible compounds in this species. To this end, eight trees were selected, and a maximum of thirteen discs was cut out along each trunk. The samples were taken down the trunk (30 cm from the ground) and then at different heights. The heights were chosen based on industrial criteria (maximum height for lumber production of for industrial use), but also on physiological parameters (e g height at the base of the crown, height of the first green branch). The samples were ground, and then polyphenols were extracted with water/ethanol (1:1, v/v) in fast extraction conditions at high temperature and under high pressure A first – quantitative – study was carried out to determine the total quantities of extractables present in the bark. The second study was qualitative, and aimed at determining which types of extractables were present in the barks. The extracts were analysed by liquid chromatography coupled to a UV-visible spectrometer and a mass spectrometer. The results showed that the quantity of compounds in the total bark extracts increased proportionally to sampling height. The highest proportion of polyphenols was found in the section below the crown
L'écorce de résineux, cultivés dans un but commercial, est une source potentielle précieuse de métabolites secondaires tels que les polyphénols. Les tannins, qui font partie des polyphénols présents dans l'écorce, sont utilisés dans la fabrication d'adhésifs et de résines, mais également en tant qu'agent de tannage, antibactérien, antifongique, antitermite et antioxydant. Peu d'informations existent à propos du rendement et de la composition des extraits d'écorce en fonction de la hauteur de l'échantillon prélevé dans le tronc ainsi qu'en fonction de la présence ou l'absence de branches. Cette étude a pour but d'examiner la variabilité des métabolites secondaires présents dans l'écorce d'Abies alba à la fois en fonction de la hauteur de l'échantillon prélevé dans un arbre, mais également la variabilité présente à des hauteurs spécifiques entre plusieurs arbres. La finalité de cette étude est de déterminer quelle fraction d'écorce contient le plus d'extractibles chez cette essence. Pour cela, huit arbres ont été sélectionnés dans lesquels un maximum de treize disques a été coupé tout le long du tronc. Ces échantillons ont été prélevés en bas du tronc à une hauteur de 30 cm du sol puis à différentes hauteurs Ces différentes hauteurs ont été choisies pour des raisons industrielles (hauteur limite pour le bois d'œuvre ou pour l'utilisation industrielle) mais également pour des raisons physiologiques (hauteur à la base du houppier, hauteur de la première branche verte…). Les échantillons prélevés ont été broyés puis extraits avec un mélange eau/éthanol (1 :1, v/v) en réalisant une extraction accélérée à chaud et sous pression. Une première étude quantitative est réalisée pour connaître la quantité d'extractibles totale présente dans l'écorce. La seconde étude est qualitative, afin de connaître quels types d'extractibles sont présents dans ces écorces. Ces extraits ont donc été examinés par chromatographie liquide couplée à un spectromètre UV-visible et un spectromètre de masse .Les résultats ont montré que la composition de l'extrait total d'écorce augmente en même temps que la hauteur dans le tronc. La proportion la plus élevée en composés polyphénoliques se trouve dans la section inférieure sous la couronne.
Fichier principal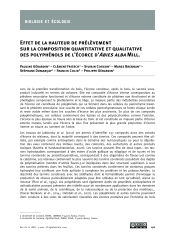 Revforfr_5_2020_Gerardin_etal.pdf (452.22 Ko)
Télécharger le fichier
Origin : Publisher files allowed on an open archive