Influence de la teneur en protéines de l'alimentation sur le contrôle de la prise alimentaire et la régulation du poids
The protein requirement is generally defined as the amount necessary to maintain the body's protein pool. However, under free choice conditions, animal models often ingest more protein than required for nitrogen balance (10 %–15 %). This behavior possibly reflects the search for a high protein-to-carbohydrate ratio (0.6–0.8), inducing metabolic benefits. This indicates that in addition to protein homeostasis, dietary proteins are also involved in energy homeostasis. The mechanisms controlling protein and energy intake are partly independent and in specific conditions, there may be a conflict between the two. Protein density in the human diet has decreased ∼ 2 % since the 1970s and, according to the protein leverage hypothesis, this decrease may be involved in the increase in energy intake and prevalence of obesity observed today.
Le besoin en protéines est en général défini comme la quantité nécessaire pour le maintien du pool de protéines corporelles, or dans des conditions de libre choix, les modèles animaux ingèrent souvent plus de protéines que nécessaire pour l'équilibre azoté (10 %–15 %). Ce comportement semble refléter la recherche d'un rapport protéines/glucides élevé (0,6–0,8), induisant des bénéfices métaboliques. Cela indique qu'en plus de l'homéostasie des protéines, les protéines alimentaires sont impliquées dans l'homéostasie énergétique. Les mécanismes contrôlant l'apport protéique et énergétique sont en partie indépendants et dans des conditions spécifiques, il peut y avoir un conflit entre les deux. La densité des protéines dans l'alimentation humaine a diminué d'environ 2 % depuis les années 1970 et, selon l'hypothèse de l'effet de levier des protéines, cette diminution pourrait contribuer à l'augmentation de l'apport énergétique et de la prévalence de l'obésité observées aujourd'hui.
Fichier principal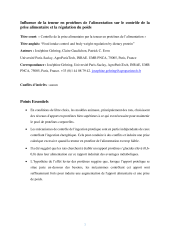 Manuscript_accepted ( Version en Français).pdf (404.24 Ko)
Télécharger le fichier
Manuscript_final (Version en Anglais).pdf (451.21 Ko)
Télécharger le fichier
Origin : Files produced by the author(s)