Kommerzielle Waldbewirtschaftung nach einem integrativen Ansatz, Wunsch oder Wirklichkeit? Das Beispiel des Steigerwaldes in Bayern
Can a Commercial Forest Realistically be Managed through an Integrative Approach? The Case of the Steigerwald Forest (Bavaria, Germany),
Gestión en el manejo integral de un bosque comercial: ¿sueño o realidad? El caso del bosque de Steigerwald (Bavaria, Alemania)
Gérer une forêt commerciale selon une approche intégrative: rêve ou réalité ? Le cas de la forêt de Steigerwald (Bavière, Allemagne)
This article provides feedback on the experience of both integrative and adaptive management, carried out since 2005 on the 17,000 ha of a state forest in Bavaria. The State Forest Enterprise Ebrach manages a state forest dominated by beech in the Steigerwald region. In addition to about one million euros in annual prof- its, its management aims to optimize a wide range of ecosystem services and also to significantly increase the hosting capacity for forest biodiversity, particularly saproxylic species. After a general presentation of the forest and its history, the concepts governing its management are presented. Then, a detailed economic analysis quantifies the cost of this type of management. We hope that this article will inspire French foresters concer- ned about improving the sustainability of their management.
Cet article constitue un retour d'expérience de gestion à la fois intégrative et adaptative, menée depuis 2005 sur les 17 000 hectares d'une forêt de l'État de Bavière. L'entreprise forestière d'État Ebrach gère une forêt domaniale dominée par le Hêtre, dans la région du Steigerwald. Tout en générant environ un million d'euros de bénéfice annuel, sa gestion a pour objectif d'optimiser un large panel de services écosystémiques et d'accroître significativement la capacité d'accueil pour la biodiversité forestière, en particulier les espèces saproxyliques. Après une présentation générale de la forêt et de son histoire, les concepts qui régissent sa gestion sont présentés. Une analyse économique détaillée permet également de quantifier le coût de ce type de gestion. Nous espérons que cet article inspirera les forestiers français soucieux d'améliorer la durabilité de leur gestion.
Fichier principal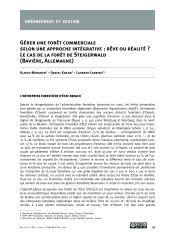 Revforfr_2020_72_1_Mergner.pdf (5.06 Mo)
Télécharger le fichier
Origin : Publisher files allowed on an open archive