Effets allélopathiques des Brassicacées via leurs actions sur les agents pathogènes telluriques et les mycorhizes : analyse bibliographique. Partie 1
Brassicas contain glucosinolates (GSL) which decomposition is able to reduce the growth of populations of soil-borne fungi, bacterias or nematodes. These biocid effects on soil-borne microorganisms make a form of allelopathy phenomenon. The allelopathic properties depends on the GLS composition of the Brassicas: Indian mustard and in a lower extend Oilseed rape could have the most powerfull action, White mustard would have a weaker action. These properties also depends on crop residues: green manure with quick decomposition would result with a higher action than crop residues after grain harvest. The main mechanisms are known. In vitro, isothiocyanates obtained from the GSL decomposition inhibit all the phases of the cycle of Aphanomyces eutiches, the fungus responsible for root rot of peas. The mycelian growth of Gaeumannomyces graminis tritici, the fungus responsible for the wheat take all is inhibited by some isothyocyanates at low concentration. Furthermore, several studies give the evidence that the incorporation of Brassicas residues into the soil does inhibit the growth of both soil-borne pathogens. At last, the presence of roots of Brassicas inhibits the germination of the mycorhizes known to improve the mineral nutrition of its host plant. This phenomenon could explain the depressive effect of oilseed rape on the nutrition of a subsequent maize. This knowledge of Brassicas effects into cropping systems offers issues for a better management of precedent effects of Brassicas; these effects being positive (integrated cop protection) or negative (management of subsequent crop nutrition after Brassicas).
Les glucosinolates (GSL) sont des composés glucidiques soufrés fréquents dans des familles de dicotylédones comme les Brassicacées. Ils jouent un rôle dans la résistance des Brassicacées aux ravageurs et aux agents pathogènes. les cultures de Brassicacées sont fréquemment citées dans la littérature pour leurs propriétés assainissantes. Les dérivés des glucosinolates peuvent en effet être impliqués dans la diminution de problèmes parasitaires telluriques liés à des nématodes (Meloidogyne incognita), bactéries (Salmonella typhimurium]) ou champignons (Rhizoctonia solani), Gaeumannomyces graminis var. tritici, Pythium ultimum...). Inversement, les Brassicacées pourraient être impliquées, de manière négative cette fois-ci, dans des perturbations des phénomènes de mycorhization des cultures suivantes. Compte tenu de leur action sur les micro-organismes du sol, la dégradation des glucosinolates présents dans leurs résidus de récolte pourrait donc expliquer, au moins partiellement, des effets précédent des Brassicacées dans les rotations. La présente revue aborde les mécanismes qui seraient à l'origine de ces effets, de l'importance des glucosinolates dans la plante à leur dégradation. Trois cas concernant des champignons sont ensuite présentés : deux cas impliquant des agents pathogènes, Aphanomyces euteiches, agent de la maladie de la pourriture molle du pois, et Gaeumannomyces graminis, maladie agent du piétin échaudage du blé, puis le cas des endomycorhizes, qui contribuent à la nutrition phosphatée de cultures comme le maïs.
Fichier principal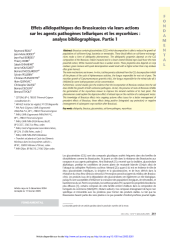 ocl2005123p261.pdf (177.98 Ko)
Télécharger le fichier
Origin : Publisher files allowed on an open archive