Le Chêne rouge (Quercus rubra L.) en France
The American red oak has been, especially in the last few years, a subject of particular interest to European foresters. They see it as having the qualifies needed to make it a model species for broadleaf reforestation. The present article sets out to sum up provisionally our present knowledge of this species in three main fields : botany and genetics ; silvicultural options to be preferred ; and wood properties. Strong encouragement is given to the continuation of investigations and experiments now under way.
Le Chêne rouge d'Amérique est, depuis quelques années surtout, l'objet d'un intérêt particulier de la part des forestiers européens, qui lui voient des qualités propres à en faire une essence-pilote pour les reboisements en feuillus. Le présent article a pour objet de faire un point provisoire sur les connaissances actuelles concernant cette essence dans trois domaines principaux : l'aspect botanique et génétique, les options sylvicoles à choisir et les caractéristiques du bois. Le prolongement des études et expérimentations en cours est vivement encouragé.
Fichier principal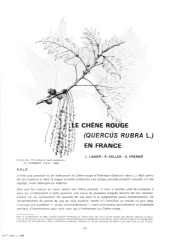 bitstream_28362.pdf (931.99 Ko)
Télécharger le fichier
Origin : Explicit agreement for this submission